A report from Cole Latimer in The Age, Melbourne, a couple of days ago, "Blockchain to get 'behind the grid' in landmark Australian deal," has been hitting the international press:
IOT Group has signed an agreement with Hunter Energy to build a blockchain centre inside the Redbank coal-fired power station to provide cheap electricity for blockchain applications.
This probably isn't a thing that's going to happen — all of this is a slightly more complicated version of adding "Blockchain" to your penny stock company's name to pump the price.
I detailed some dodgy "Bitcoin mining" enterprises in chapters 4 and 5 of the book, though this one definitely gets points for creativity.
Hunter Energy and Redbank Power Station
The power plant, Redbank Power Station, hasn't reopened yet, and it's not clear it will:
Hunter Energy chief executive, Jim Myatt, said feasibility studies are underway to restart the power station and this offtake agreement underwrites Redbank's future.
Redbank Power Station was originally promoted as being at "the cutting edge of environmental technology" — though it turned out actually worse than most coal-fired power plants, at 1000kg CO2 per megawatt-hour. It was always a marginal operation, and it went broke a couple of years ago.
You might get the impression from the story that Hunter Energy owns the mothballed power plant. They don't — they just aspire to. Their front page (archive) says they "will look at acquiring existing generation assets", and they claim to have "reached agreement to acquire the existing Redbank Power station currently in care and maintenance mode as its first project" — though there's no public evidence of them putting in a bid other than their own page.
Hunter Energy, ABN 65 624 824 791, is a private company, founded a month ago, that appears to be just three people (archive) — James Myatt and Warren Kember, with advisor Arthur Phillip Advisory, run by Richard Poole. Kember is also the CFO of Arthur Phillip.
Richard Poole: "corrupt conduct"
Richard Poole is the sort of person the Australian media would describe as a "colourful racing identity," before it became too obvious what that meant.
The Independent Commission Against Corruption (ICAC) found Poole had engaged in "corrupt conduct" over the Cascade Coal scandal. Poole appealed over this and lost (archive):
The NSW Court of Appeal has upheld ICAC's corruption findings against a clutch of business identities who had their paws embedded in the infamous Cascade Coal, the company that had been issued a coal exploration licence by former Labor minister Ian Macdonald over an area of land at Mount Penny owned by interests associated with his colleague, the corrupt former politician Eddie Obeid … "Corruption on a scale probably unexceeded since the days of the Rum Corps."
Eddie Obeid was an Australian Labor Party powerbroker and News South Wales MLC — who was separately convicted and jailed for misconduct in public office.
Richard Poole was a shareholder and director of Cascade Coal:
The issue that was the focus of ICAC's attention was the plan to sell Cascade for $500 million to White Energy, a public company in which these same businessmen, except for Poole, were also directors and shareholders. Cascade had purchased the Mount Penny licence for $1 million and the directors and owners were now trading this public resource for $500 million.

Because the transaction involved directors who stood to make mouth-watering amounts of money by selling a major asset, acquired courtesy of the state, to a listed company, the Australian Stock Exchange was informed and an independent board committee was established to assess the proposal for White Energy.

The independent director was Graham Cubbin and he was required to report to shareholders whether the proposal to invest $500 million of their money was squeaky clean. The task of Duncan, McGuigan, Atkinson and Poole was to make sure Cubbin was kept in the dark about the Obeids and how Cascade had secretly bought out the Obeids' interest in the tenement for a down payment of $30 million with another $30 million in the pipeline.
During the investigation, Richard Poole's wife Amanda Poole claimed not to know she had $7.5 million in her bank account, that was allegedly paid to Obeid's family.
It's absolutely on brand for Bitcoin that former associates of Eddie Obeid are getting into it.
The IOT Group, formerly Ardent Resources, formerly Centius Gold
The IOT Group is a tiny company who have pivoted repeatedly, looking for a profitable business.
Their previous product, a drone to take selfie photos called ROAM-e, which the company claimed had thousands of pre-orders, wasn't even their product.
IOT Group's big news last month was appointing "blockchain wizard" Adam Ritchie as an advisor. This didn't do anything for the stock price. His wizardry is that he and his brother Ben run a "blockchain fund," Digital Capital Management, a.k.a. BitcoinAdvisors.com.au, whose front page proudly links their blank template blog (archive). They got into cryptos during the bubble last year.
"His value-add approach is based on technology analysis and applying an investor mindset across industry verticals, technology stacks, emerging Blockchain use cases and digital asset markets," IOT said of Mr Ritchie
IOT Group was originally a gold prospecting company — Centius Gold, which changed its name to Ardent Resources. Ardent then did a reverse takeover of IOT Group in 2014 — and remember that "Internet of Things" was the stock-pumping buzzword then that "Blockchain" was a few months ago.
Unlike Hunter Energy, they at least achieved an Australian Stock Exchange listing in September 2015. They had some internal troubles a couple of years ago, at which time the share price was 2.2 cents (Australian).  They're now down around 0.5 to 0.6 of a cent, with a one-year return of -76.19%.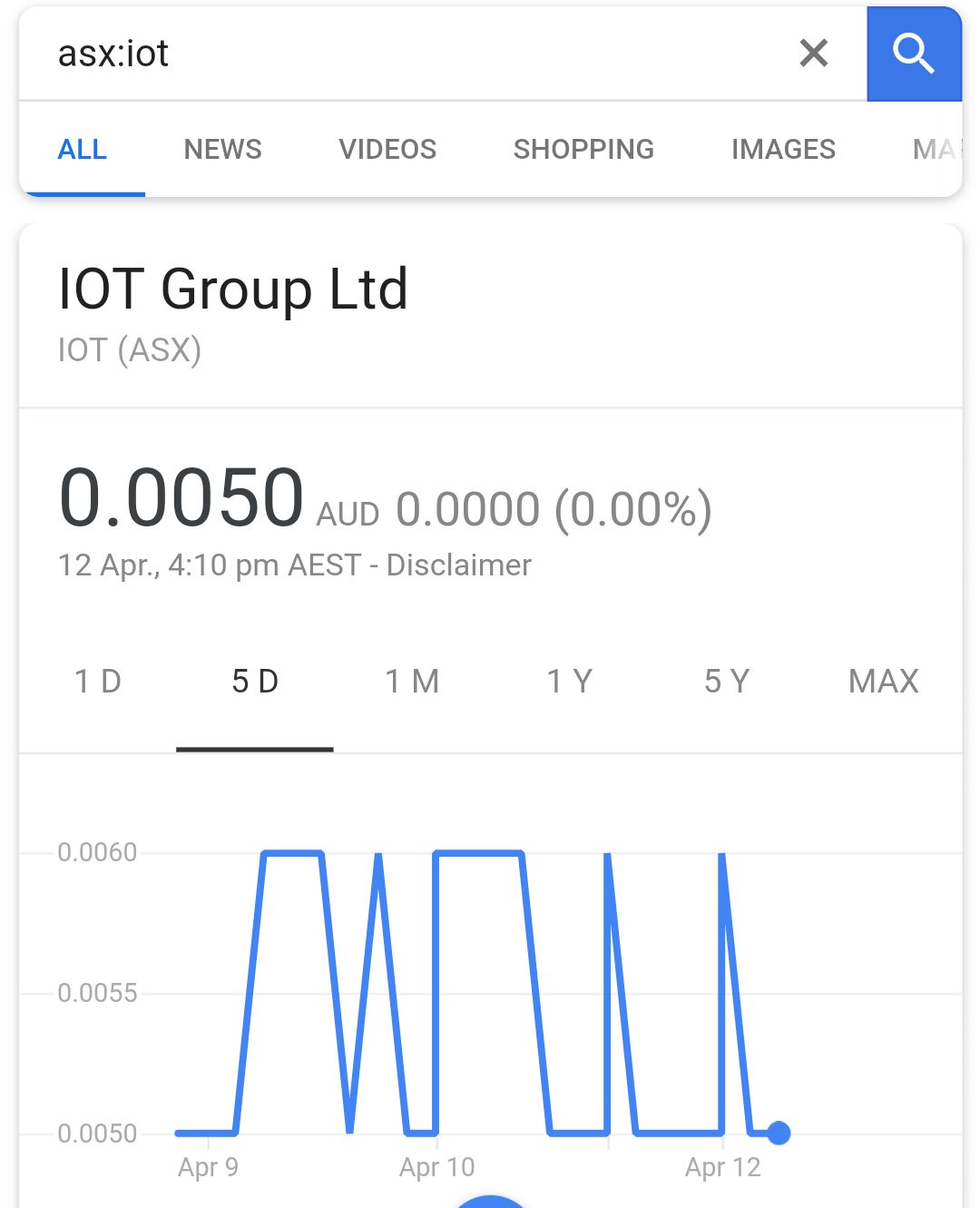 Summary
The chances of a bank backing the ridiculous Redbank scheme are minimal, and even smaller if Richard Poole is involved.
This is an attempt to get IOT Group's penny stock price up, and you'd hope The Age would have spent twenty minutes Googling these people before hitting "publish."
Thanks to Anthony B, Dianne Costin and Mick Fong for research tips.
---
Update: Followup to the story in CNet by Mark Serrels.
And also, from last year: "The next largest owners with 3.12 per cent each were IoT Ventures Trust, one of the entities associated with founder and new director Sean Neylon, and a company associated with Richard Poole."
---
Workin' in the bit mine
Goin' on down, down
Workin' in the bit mine
Oops, about to slip down

Bitcoin's under $10,000
How long can this go on?

— John Druva (@jdruva41) April 12, 2018
Your subscriptions keep this site going. Sign up today!