If you ever wondered what ICO and altcoin "advisors" actually do — they put their names on things, and … that's about it.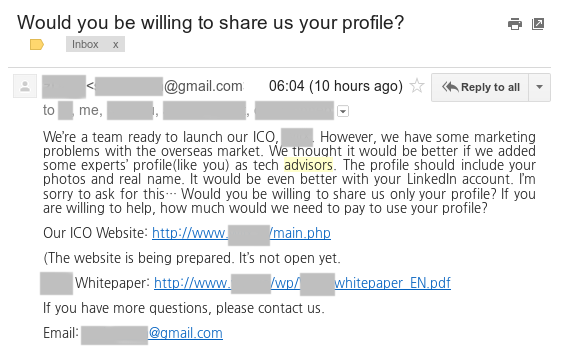 From: ——@gmail.com
Date: Fri, 26 Jan 2018 15:04:17 +0900
Message-ID: <CADoq5p110Y9HQOR=fDzxhx7j0=1mtU9P6BgXmG_5QJnqp08C_A@mail.gmail.com>
Subject: Would you be willing to share us your profile?
To: ——, dgerard@gmail.com, ——, ——, ——

We're a team ready to launch our ICO, ——. However, we have some marketing problems with the overseas market. We thought it would be better if we added some experts' profile(like you) as tech advisors. The profile should include your photos and real name. It would be even better with your LinkedIn account. I'm sorry to ask for this… Would you be willing to share us only your profile? If you are willing to help, how much would we need to pay to use your profile?

Our ICO Website: http://www.——/main.php

(The website is being prepared. It's not open yet.

—— Whitepaper: http://www.——/wp/——_whitepaper_EN.pdf

If you have more questions, please contact us.

Email: ——@gmail.com
How much should I ask, do you think? Last time an ICO asked me to be an advisor, I said "certainly!" and offered to do my best for them for £500 per hour, two-hour minimum — fiat upfront only, no cryptos sorry. Sadly, they balked, though I still have the already-granted access (that I haven't used) to their Slack.
Back in those innocent days, I thought ICO advisors were there to advise. I might multiply my rate for ICO advice 100× going forward. For £100,000 up front, I will be delighted to be listed as your advisor, though anything over two hours' effort on my part will be extra.
Chris Koper suggests the going rate is 3% of the tokens — "or if you put it in USD zero point zero."
I'm not naming the ICO because I'm quite sure this is completely standard. I will name the ICO and the others this was sent to if any of them take up the offer to be a promotional pseudo-advisor.
Update: The ICO site is up! The page is working properly now, but first time I went to it it started with "Notice: Undefined index: ref in /opt/bitnami/apps/wordpress/htdocs/wp-content/plugins/insert-php-code-snippet/shortcode-handler.php(65) : eval()'d code on line 2". Token of the future.
Your subscriptions keep this site going. Sign up today!