The Bitcoin sphere is currently going nuts over the idea that Amazon will start accepting Bitcoin next month! Sure thing! IT'S HAPPENING!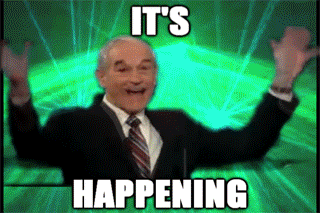 This came from a post on a blog called Squawker, which turns out to be the sort of blog that has a front-page header for "culture wars" and thinks that "cultural Marxism" is a thing. Squawker sourced this remarkable claim from an email newsletter called the James Altucher Report, which mostly advocates startup penny stocks, although it's now heavily advocating cryptos (archive), a topic Altucher has a lot of interest in.
Altucher thinks (archive) that Amazon will start accepting Bitcoin because eBay has "expressed interest" in accepting Bitcoin, although I can find no evidence of this, and because Patrick Byrne of Overstock says eBay's gotta accept Bitcoin because Overstock does (0.15% of sales) — despite Overstock having lost money consistently over the past several years on cryptos, which they're only into at all because Byrne is a Bitcoin fan. That's the whole basis of the rumour.
I will be frankly amazed if Amazon start accepting bitcoins as of (per Altucher) their next earnings call on 26 October, and if this occurs I will proclaim Altucher a genius.
Update, 1 November: Altucher is pretty smart, but he missed his trick on this one. No cryptocurrency announcement from Amazon.
Your subscriptions keep this site going. Sign up today!