Chipotle US takes cryptocurrency now! Buy your next burrito with crypto! [CoinDesk]
Well, no, of course it doesn't.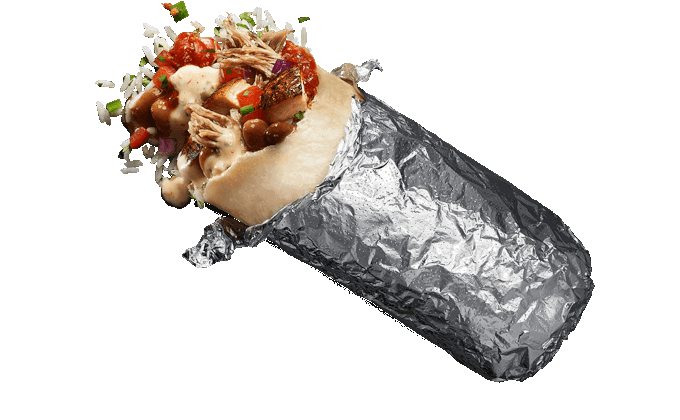 Chipotle UK would like to assure you that this image is appetising.
Chipotle is using a platform called Flexa, which is connected in some unclear manner to the Gemini crypto exchange.
You put your cryptos into your Flexa wallet, which is called Spedn — a registered typo-mark, in the finest dot-com manner. Then you use the Spedn app on your phone to generate a "flexcode" barcode, which presents to Chipotle as a gift card. Then they hand you a burrito!
Flexa sells the crypto, and sends the dollars to Chipotle. You're topping up a prepaid gift card with crypto.
If you put your cryptos into Flexa, you can't ever take them out again. This is for (checks Crypto Excuse Calendar) anti-money-laundering. But Flexa is sure they'll work out how to let you get your money out in some non-burrito form within the next (rolls dice) several months. [Flexa]
This includes payments in Gemini USD, which is apparently the most trusted form of cryptocurrency for payments — but not so trusted that they can risk giving you back what is literally your own money.
Don't put too much into your Flexa wallet — you can only spend $750 from Spedn in any given week. That's after you've provided full Know-Your-Customer details. Flexa's reason for this is (literally) to stop terrorism. I'm sure someone will follow up with explanations of why this is absolutely what any consumer wants, and is actually good news for Bitcoin. [Flexa]
How are your deposits insured? They're only covered by Gemini's commercial insurance on their great big pile of cryptos. Gemini's terms and conditions make it clear that they will absolutely claim any loss was your own fault, for not being good enough at being your own bank. [Flexa; Gemini]
Every purchase triggers a taxable event that affects your IRS tax filings — just what every ordinary person expects from using their phone to buy a burrito. Flexa won't be filing any paperwork — but you can have fun figuring out what to do with a data dump in CSV format, or pay one of their affiliate partners to work out your burrito liability. [Flexa]
Visa is quaking in their boots! No, that's not them giggling, they're quaking.
Flexa did a huge press push for the initiative — though Chipotle didn't get around to doing a press release themselves, for some reason. [Medium; Chipotle, archive of 5 June]
You'll be pleased to hear that Flexa is "Carbon-negative: Flexa balances the carbon emissions of all of its blockchain and operating activities with high-quality, verified carbon offsets to maintain a completely carbon-negative network" — that is, they hedge a scam with another scam.
Flexa apparently sends payments around internally in its native AMP token: "AMP is an ERC-20 token used as collateral to guarantee retail payments while blockchain transactions remain unconfirmed." [Gemini]
AMP holders stake their AMP and get interest. Good thing that doesn't constitute an investment contract under US securities law … oh wait, of course it does. The staking reward seems to be around 2% — paid in more AMP tokens, created out of thin air. [Gemini; Reddit]
Most Flexa users seem to be AMP stakers, trying to convince themselves that crypto payments are cool and not stupid.
Flexa has signed deals with a pile of retailers, who thought they'd try out some crypto while it's in the news. These have generated a mountain of press reports — but there are no reports yet as to actual transaction volumes. Not even Reddit /r/amptoken can work it out. [Reddit]
How widely accepted is Flexa in practice? One /r/amptoken user "tried to pay with bat using the gemini app at coffee bean & tea leaf in hawaii today and they told me since they don't accept gift cards they can't scan it as a gift card. it only works on the mainland right now. has anyone in Hawaii been successful paying with flexa?" The thread contains reports of denials at Chipotle in Ohio too. [Reddit]
You can also use Flexa to buy your burrito in Axie Infinity or Smooth Love Potion tokens. [Twitter]
"The legacy payment systems are complicated and costly," says Flexa CEO Tyler Spalding. [press release, 2019]
In conclusion, cryptocurrency payment systems have not advanced one dot since 2014, and may in fact have gone backwards.
What times we live in, where this sentence exists: buying a burrito is a taxable event.
Spotted by the SomethingAwful Bitcoin grey thread. [SomethingAwful]
Your subscriptions keep this site going. Sign up today!