On Thursday 21 April 2022, the Central African Republic passed by voice vote a law to enable cryptocurrency use: "Regissant la Cryptomonnaie en Republique Centrafricaine" (Regulating Cryptocurrency in the Central African Republic). The President, Faustin-Archange Touadéra, signed it into law on Friday 22 April.
The news hit the press in the rest of the world on Wednesday 27 April, with headlines that the CAR was adopting Bitcoin as legal tender, just like El Salvador did.
The one question is: why?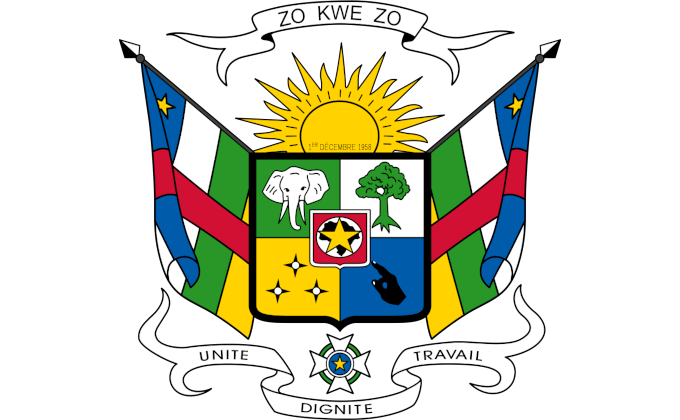 Where did this law come from?
Nobody seems to have any idea where the new cryptocurrency law came from, with no prior warning. It's cribbed from El Salvador's Bitcoin Law. But we have no idea who pushed this through, to what end.
The Central African Republic is incredibly corrupt, and its people are desperately poor despite the country's mineral wealth. The CAR ranks 188 out of 189 countries in the UN's Human Development Index. El Salvador is a gleaming jewel of functionality by comparison.
The cryptocurrency law was rushed through, and some legislators are taking the law to the constitutional court. "This law is a way of getting out of the CFA franc through a means that guts the common currency," former prime minister Martin Ziguélé told AFP. "It isn't a priority for the country. This move raises the question: who benefits from it?" [AFP]
Opposition deputies Dologuélé, Ziguélé and Ngakola warned that the bill would promote money laundering, tax evasion and fraud, and would risk scaring off international financial aid. [RFI, in French]
The CFA franc is a relic of French colonialism. A lot of people in the CFA franc zones (there are two CFA francs; the CAR uses the central one, not the western one) don't like the currency, and not without reason — they feel the CFA franc gives France too much ongoing control, as it's pegged to the euro. Though there aren't a lot of properly worked-out plans to get rid of the CFA franc. Just adding Bitcoin definitely isn't one.
The CAR didn't bother telling the Bank of Central African States (BEAC), who issue the CFA franc, about the upcoming cryptocurrency law. BEAC found out at the same time everyone else did. [Reuters]
BBC Afrique spoke to some locals. Economist Yann Daworo said "businessmen will no longer have to walk around with suitcases of CFA francs that will have to be converted into dollars or any other currency to make purchases abroad." [BBC]
Computer scientist Sydney Tickaya pointed out that "Internet access is still underdeveloped in the country, while Bitcoin depends entirely on the Internet." Internet coverage in the CAR is 11%, for five million people. [DataReportal]
The CAR also has a recent military deal with Russia — including getting in Wagner Group mercenaries to fight in the country's ongoing civil war — and economic deals with China. I've seen mumblings that the cryptocurrency law ties into those, though no details on how it might do that.
El Salvador's adoption of Bitcoin is widely considered a disaster, and citizens largely avoid using it — despite the government declaring Bitcoin acceptance mandatory. It's not an example to emulate.
The announcement
I can't find a clear text copy of the cryptocurrency law itself online, or even the press release about it. But the President's Office did post scans of the press release and the law to Facebook. [Facebook]
I've put a cleaned-up OCR of the full text of the press release and the law itself at the end of this post. (Please feel free to ping me with OCR errors — though the original is full of typos, which I've preserved. Those typos are law now.)
The press release is nonspecific cheering about what a good idea this is. "The adoption of Bitcoin as an official currency represents a decisive step towards the opening of new opportunities for our country."
The cryptocurrency law
Article 11 of the cryptocurrency law requires an "economic agent" to accept cryptocurrencies as a form of payment when offered for the purchase or sale of a property or service. This is the equivalent of "legal tender" status.
Taxes can be paid via cryptocurrency on officially recognised platforms. Cryptocurrency transactions themselves are not subject to tax.
As in El Salvador's Bitcoin Law, you're exempt if you don't have the technical capacity to accept cryptocurrency.
The wording of this law seems to include all cryptocurrencies — not just Bitcoin.
As  in El Salvador, there will be a trust set up to act as a buffer between cryptocurrency and CFA francs.
The crypto exchange rate is freely determined by the market. All electronic transactions can be made in cryptocurrency as allowed by regulation.
The CFA franc should be used in accounting.
A new agency, Agence Nationale de Régulation de Transaction Électronique (ANTE), will regulate crypto transactions and endorsed platforms. Crypto ATMs will be regulated by ANTE.
There are regulations to come on crypto mining. Trading profits will be covered by the General Tax Code.
New cybersecurity, cybercrime and data protection rules will be passed, with new regulatory bodies.
All those working in cryptocurrency have thirty days to comply with this law. The law itself takes effect immediately.
What happens next?
El Salvador gave itself three months to prepare for launch. The Central African Republic didn't. The cryptocurrency law is in effect now.
Almost nobody in the CAR has the technical capability to accept cryptocurrency. But let's hope the CAR doesn't just set up an instance of Chivo.
---
LOI No 22-001
REGISSANT LA CRYPTOMONNAIE EN REPUBLIQUE CENTRAFRICAINE
CHAPITRE I : DE L'OBJET ET DU CHAMP D'APPLICATION
Art.1 : La présente loi a pour objet de régir toutes les transactions liées aux cryptomonnaies en République Centrafricaine, sans restriction, avec un pouvoir d'émission illimité dans toute sa transaction et à tout titre, effectuées par les personnes physiques ou morales, publiques ou privées.
Le bitcoin sera considéré à juste titre comme monnaie de référence.
A ce titre, elle fixe le cadre juridique et les modalités de mise en œuvre et de sécurisation de ces transactions, les infractions, les sanctions et les moyens de preuve en la matière.
Ce qui précède est sans préjudice de l'application de la loi sur l'intégration monétaire.
Art.2 : La présente Loi s'applique aux personnes physiques ou morales de droit public ou privé :
– qui assurent des activités de commerce en ligne liées aux cryptomonnaies ;
– dont l'activité est d'offrir un accès à des services de cryptomonnaies au public par le biais des Technologies de l'Information et de Communication ;
– qui offrent des services par voie de la technologie BLOCKCHAIN qui donne lieu à la conclusion de smart-contrat pour se procurer en biens ou prestations de services.
Art.3 : Sont soumises aux dispositions de la présente Loi, les transactions liées aux cryptomonnaies, de quelque nature qu'elles soient, prenant la forme d'un achat, d'un retrait, d'une vente.
Toutefois, les échanges ou les transactions utilisant les plates-formes de cryptomonnaies restent soumises aux règles non contraires, applicables en matière commerciale et civile et en l'occurrence celles qui sont prévues par les textes en vigueur.
CHAPITRE 2 : DES DEFINITIONS
Art.4 : Au sens de la présente loi, on entend par :
– CRYPTOMONNAIE : monnaie numérique émise de pair à pair (actif numérique), sans nécessité de banque centrale, reposant sur une chaine de bloc (Blockchaine) et utilisable au moyen d'un réseau informatique décentralisé ;
– BITCOIN : cryptomonnaie de référence ;
– BLOCKCHAIN, chaîne de blocs constituée d'enregistrement de données produites en continu, sous forme de blocs liés les uns aux autres dans l'ordre chronologique de leur validation, chacun des blocs et leur séquence étant protégés contre toute modification ;
– MINER, opération qui consiste à valider une transaction, réalisée, par exemple, en bitcoins, en chiffrant les données et à l'enregistrer dans la Blockchain. Les opérateurs, particuliers ou entreprises, qui utilisent la puissance de calcul (de processeurs, d'ordinateurs ou de cartes graphiques utilisées pour les jeux vidéo) pour valider une transaction sont appelés "mineurs". En pratique, les mineurs utilisent un logiciel pour résoudre un problème mathématique, résolution qui se traduit par la validation d'une transaction ;
– MINEURS, personnes qui minent les opérations de cryptomonnaies basées sur la technologie Blockchain avec des logiciels, et des infrastructures de minage ;
– VOLATILITE, variation observée dans le cours des cryptomonnaies, étant donné qu'il s'agit de monnaie dénationalisée et n'ayant pas de valeur fixe. Elles sont échangées en fonction de l'étalon or, Dollar ou tout autre monnaie ;
CHAPITRE 3 : DES OPERATIONS DE CRYPTOMONNAIES
Art.5 : Le taux de change entre les cryptomonnaies et la monnaie utilisée en République Centrafricaine est librement déterminé par le marché.
Art.6. Toutes les transactions électroniques en République Centrafricaine peuvent être exprimées en cryptomonnaie légalement reconnues et encadrées par des textes de régulations.
Art.7 : Les contributions fiscales peuvent être payées en cryptomonnaies à travers les plates-formes reconnues et autorisées par le Gouvernement Centrafricain.
Art.8 : Les échanges en cryptomonnaies ne sont pas soumises à l'impôt.
Art.9 : Pour les besoins de comptabilité, la monnaie légale utilisée en République Centrafricaine est considérée comme monnaie de référence.
Art.10 : Tout Agent économique est tenu d'accepter les cryptomonnaies comme forme de paiement lorsqu'elles sont proposées pour l'achat ou la vente d'un bien ou d'un service.
Art.11 : Sans préjudice des actions du secteur privé, l'Etat fournit des alternatives permettant à l'utilisateur d'effectuer des transactions en cryptomonnaie et de disposer d'une convertibilité automatique et instantanée des cryptomonnaies dans la monnaie utilisée en République Centrafricaine.
Art.12 : Les limites et le fonctionnement des alternatives de conversion automatique et instantanée et d'émission sont précisées par des textes réglementaires.
CHAPITRE 4 : DE L'ORGANE DE CONTROLE OU DE REGULATION DES TRANSACTIONS ELECTRONIQUES ET DE LA CRYPTOMONNAIE
Art.13 : Il est créé une Agence Nationale de Régulation de Transaction Electronique, en abrégée ANTE.
Art.14 : L'Agence est chargée de contrôler et gérer tous les guichets automatiques (ATM) publics installés par l'Etat sur le territoire national.
Art.15 : Les mineurs de cryptomonnaies sont considérés comme des acteurs indépendants et doivent déclarer leurs gains réalisés en monnaie ayant cours légal en République Centrafricaine.
L'encadrement des activités des mineurs de cryptomonnaie est assuré par voie réglementaire.
Le cours de référence étant le cours de cryptomonnaie à la date du minage.
Art.16 : Tout bénéfice réalisé par le tradeur est soumis au Code Général des Impôts.
Art.17 : La prestation de services d'échange entre monnaies virtuelles et monnaies légales et la prestation de services de portefeuilles de conservation sont de nouvelles entités assujetties à la présente loi.
CHAPITRE 5 : DE LA PROTECTION DES DONNEES ET DE LA SECURISATION DESINFRASTRUCTURES
ART.18 : Une loi sur la Cybersécurité/cybercriminalité et une loi sur la protection des données à caractères personnelles seront adoptées et promulguées ainsi que la création des organes y relatifs pour assurer la protection des données des utilisateurs et la sécurité des infrastructures liées aux transactions.
CHAPITRE 6 : DES DISPOSITIONS PENALES
Art.19 : Outre les dispositions du Code Pénal, et des textes en vigueur tout contrevenant aux dispositions de la présente loi est passible d'une peine, d'emprisonnement de dix (10) ans à vingt (20) ans et/ou d'une amende de 100.000. 000 FCFA à 1.000.000.000 FCFA).
CHAPITRE 7: DES DISPOSITIONS DIVERSES, TRANSITOIRESET FINALES
Art.20 : La Banque Centrale émet le règlement correspondant dans le délai prévu à l'article 25 ci-dessous de la présente loi.
Art.21 : Sont exclus de l'obligation exprimée à l'article article 11 ci-dessus de la présente Loi ceux qui, par un fait notoire et évident, n'ont pas accès aux technologies qui permettent les transactions en cryptomonnaie.
Art.22 : Toutes les obligations monétaires libellées en Franc CFA existant avant la date d'entrée en vigueur de cette loi peuvent être payées en cryptomonnaie.
Art.23 : Avant l'entrée en vigueur de la présente loi, l'Etat garantit à travers la Banque Centrale par la création d'un Trust, la convertibilité automatique et instantanée des cryptomonnaies en monnaie ayant cours légal des alternatives fournies par l'Etat visées à l'article 8 ci-dessus.
Art.24 : Tous les acteurs intervenant dans les transactions en cryptomonnaie disposent de trente (30) jours pour se conformer à la présente loi à compter de la date de sa promulgation.
Art. 25 : Les Statuts de l'ANTEsont approuvés par décret pris en Conseil des Ministres.
Art. 26: La présente loi qui prend effet à compter de la date de sa promulgation, est enregistrée et publiée au Journal Officiel.
Fait à Bangui, le 22 AVR. 2022
Prof. Faustin Archange TOUADERA
---
PRESIDENCE DE LA REPUBLIQUE
DIRECTION DE CABINET No 009 PR/DMCAB/22.
COMMUNIQUE DE PRESSE
Le Président de la République, Chef de l'Etat, le Professeur Faustin Archange TOUADERA a pris note avec satisfaction et enthousiasme de la décision unanime de l'Assemblée Nationale relative au projet d loi qui établit le cadre légal qui régit les crypto-monnaies et instaure le Bitcoin en tant que monnaie officielle en République Centrafricaine. L'adoption du Bitcoin en tant que monnaie officielle représente un pas décisif vers l'ouverture des nouvelles opportunités pour notre pays.
Par cette décision historique, le plan de redressement économique et de consolidation de la paix entre dans une nouvelle phase et l'Exécutif fait preuve de cohérence dans l'application de l'agenda qui prévoit réalisation d'une croissance forte et inclusive au bénéfice du développement et de la performance économique, qui finalement va générer la prospérité des nos concitoyens.
Le Président de la République, Chef de l'Etat va soutenir tous les efforts nécessaires, dans le respect de la loi, afin de mener à bout cette démarche qui place la République Centrafricaine sur la carte des plus courageux et visionnaires pays au monde, pour tout ce qui signifie et implique l'acceptation des crypto-monnaies en tant que moyens de paiement.
La République Centrafricaine n'est pas seulement le premier pays d'Afrique à adopter le Bitcoin comme monnaie de référence, mais aussi et le premier pays au monde à adopter à l'unanimité le projet de loi qui gouverne la crypto-monnaie. Nous partons sur une nouvelle voie qui va jalonner une nouvelle étape pour notre pays, tout en étant conscients des difficultés que nous allons devoir affronter pour poursuivre notre mission.
Dans une vision progressiste, tourn. vers l'avenir, notre Nation doit être en mesure de poursuivre son destin et de rejoindre les rangs de celles qui, non seulement comprennent pleinement l'importance de la technologie Blockchain, mois qui s'empressent également de la légiférer.
Nous réfléchissons en priorité à la manière dont la vie de nos concitoyens va changer et aux moyens nécessaires pour créer une économie stable et prospère. Il convient de .ire tout ce qui est en notre pouvoir pour le bien commun, en gardant à l'esprit l'héritage que nous avons le devoir de laisser aux générations futures.
Fait à Bangui, le 26 avril 2022
Le Ministre d'Etat, Directeur de Cabinet de la Présidence de la République
Obed NAMSIO
---
Your subscriptions keep this site going. Sign up today!