Amazing: Thanks to explosive growth in Dentacoin the tooth fairy is now wealthier than Bill Gates

— Neeraj K. Agrawal, 8 January 2018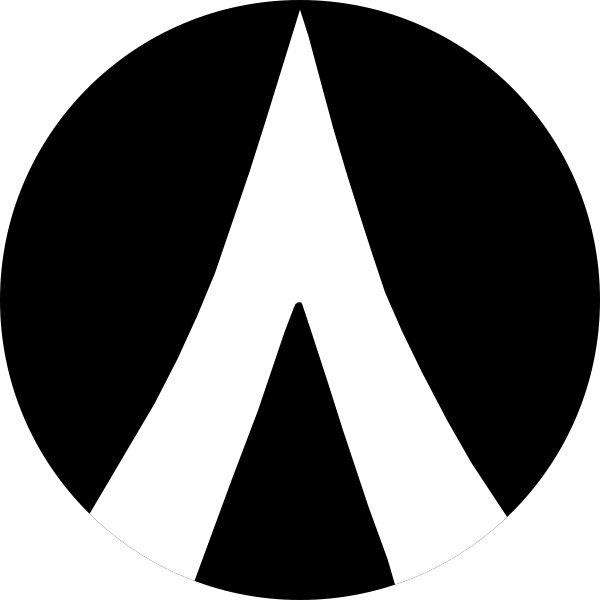 Dentacoin (DCN) is the instant punchline of obviously dumb crypto ideas. In real-world testing over the last couple of years, nobody can hear about "the cryptocurrency for teeth" without giggling. So I can't really avoid writing it up for the planned ICO book.
It's yet another scheme to issue a centrally-controlled token as industry-specific company scrip, with all the problems that implies. They can say "utility token" all they like — but it's obviously a security in the US. There's no reason professionals would take this over actual money. And trading is pretty much dead.
People talk about Dentacoin like it's just another ICO scam. The price peaked at 0.6575 cents with the crypto bubble, but has collapsed since, and the coin has approximately zero usage. But Dentacoin is completely sincere!
The Dentacoin Foundation
The Dentacoin Foundation was founded in the Netherlands on 3 March 2017 by Prof. Dr. Dimitar Dimitrakiev. Co-founders are Jeremias Grenzebach (the core developer) and Philipp Grenzebach.
Despite being called a "foundation," the company is actually a for-profit B.V., which is closest to a public limited company in British law — a private company limited by shares.
The Dentacoin Foundation bought London tooth implant clinic Dentaprime F3T in June 2017 for 31.5 billion dentacoins. Dentaprime F3T PLC is owned by Dentaprime International PLC, which was owned by Dentaprime Ead (Bulgaria) until 20 July 2017, and thence by Dentacoin B.V.
Dentaprime F3T looks like a reasonably successful clinic — so that's some steady income for the Foundation, at least. They also have Swiss Dentaprime — which is actually based in Bulgaria.
The Dentacoin system
Dentacoin aims to set up a token-based economy that gets dentists paid, and encourages patients to better maintain their own dental health.
The user pays a monthly fee to Dentacoin (though I can't find how much it is) — this gets them ongoing treatment from a particular dentist. The dentist then gets a share of the fee that the user paid to Dentacoin.
Dentavox is a market research platform. DentaCare is a mobile app that helps people maintain good dental health, and users can get Dentacoins through it. Dentacoin Trusted Review is reviews of dentists. There are 17 reviews at present, 11 of which are of Dentacare F3T — Dentacoin's own clinic in London.
User reviews are paid for in Dentacoins. The Dentacoin white paper suggests dentists can reward patients for reviews — and never mind the obvious conflict of interest.
The app has 82 reviews on Google Play. Some aren't so positive:
"After two weeks, on 14s day, logged out on its own. When I logged back in, my 3k dcn disappeared. I have started from 1st day again, but feel much less enthusiastic now. I am afraid next time it occurs when I am on 89 day."
"Many times I am logged out because of Jason can parse error no routine is skipped. Even on completing I don't get credit. Are are working with prof. Dev. Or just studying from internet and developing this application. On what basis of dcn count is anonymous."
"They reduced my coins by half automatically"
The Dentacoin DCN token
The Dentacoin white paper has been updated from time to time. The current edition is v2.2, dated 28 November 2018. The Internet Archive also has v2.1, from 6 June 2018.
Dentacoin is an ERC-20 token running on Ethereum. It's completely centrally-controlled. The white paper still tries for decentralisation cool points:
According to Harvard Business Review: "To protect the blockchain vision from political pressure and regulatory interference, blockchain networks rely on a decentralized infrastructure that can't be controlled by any one person or group."
Co-founder Philipp Grenzebach talked to Forbes contributor Kate Harrison and listed the usual extruded blockchain hype product — spurious claims of efficiency, data security, even banking the unbanked.
The pre-sale period started 1 July 2017 — 16,177,500,000 DCN distributed, at 8m DCN = 1 ETH. The public ICO was October 2017 — 80b DCN, at 2.5m DCN = 1 ETH or 33m DCN = 1 BTC. The total raised in the ICO was about $2.6 million (in cryptos).
There are 8 trillion coins, in different token pools, locked for different time periods — the current circulating supply is 326 billion. A fixed quantity of Dentacoin will be released each year until 2042.
Dentacoin used to be much more optimistic (archive) about the price of DCN. They even had a "calculator" page where they'd show how incredibly rich you'd get off Dentacoins — where you could calculate how much you'd have when DCN reached $0.01, $0.10 or $1.00. They don't have this any more.
Take Your Piece of the Cake

Calculate the potential future value of your Dentacoins, fast and easy.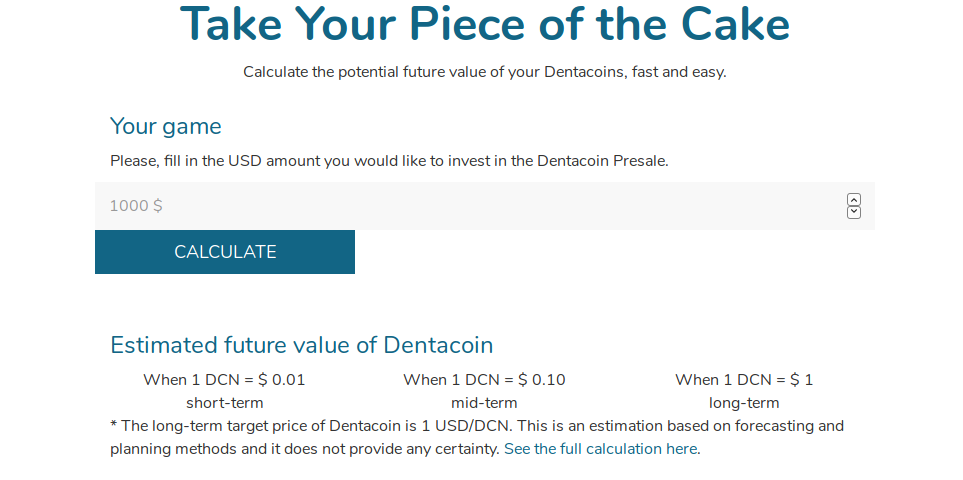 Dentacoins as money
The Dentacoin plan could only conceivably work if you assume cryptos must be worth something. This isn't a safe assumption.
The obvious problem with Dentacoin is the same as with every other industry-specific company scrip scheme that claims it's totally selling a "utility token," and definitely not a security — professional businesses run on actual money they can use.
The system relies on users being able to buy in and cash out in a liquid and reliable manner. But trading in Dentacoin is all but dead.
A few minor exchanges deal in Dentacoin, with the majority of the volume being on LATOKEN and most of the rest being on HitBTC. The daily volume tends to be between $25,000 and $100,000. You can't exchange it for actual money — only for other cryptos.
Dentacoin's price peak was 0.6575 cents on 8 January 2018 — giving a market cap of about $2 billion. As if you needed more evidence that "market cap" is a useless number.
The coin's price on 29 March 2019 was 0.005 of a cent, or about one satoshi if you're counting in bitcoins. Market cap is about $16 million.
You might ask why your dentist, or a chain of dentists, couldn't just offer a loyalty card scheme. You'll be unsurprised to know there are zillions of dentist loyalty schemes already.
Izabella Kaminska in FT Alphaville took the time in August 2017 to bludgeon the idea into paste on all the obvious issues — Dentacoin is less useful as money than Tesco Club Card points or Amazon vouchers, you don't need a blockchain to run a loyalty card scheme … and we have widely-accepted conventional currencies for good reason.
Market penetration
Doctors are not so great with money sometimes — so they're favourite suckers for financial scams. They have money, they have a high opinion of their own brilliance, and they're gullible as hell when the topic isn't medicine.
However, so far the money appears to be flowing from Dentacoin B.V. to the dentists — the pitch to dentists is: "Free of charge advertising & PR about our partnership; Onboarding bonus in Dentacoin (DCN) cryptocurrency."
Dentacoin's front page claims "80+ Dentists, labs, suppliers accepting Dentacoin payments" — here's the partner network page.
I contacted Dentaprime F3T, Dental on Flinders, Quality Affordable Dentistry, Contident and LifDental asking how patient use of Dentacoin at their clinics was going — that is, if anyone's used it, ever. I'll update if I ever hear back.
'Tis but a scratch!
The Dentacoin Foundation is convinced the future is still bright. They still run booths at dentistry industry shows, blog regulary, and post every day or two to Reddit /r/Dentacoin.
At least they have actual businesses — the two clinics — that seem to be going okay. Perhaps they will achieve their dream of improved dental health, through the blockchain! But, probably not.
Tempting but I already have as much dentacoin as I need

— Neeraj K. Agrawal (@NeerajKA) December 26, 2017
Why is Anna wearing lipstick to the dentist?
Your subscriptions keep this site going. Sign up today!