Kathimerini (Καθημερινή) is a daily newspaper in Greece. They asked me to write 350 words for an op-ed in today's edition as part of a debate on cryptocurrencies.
It's not up on the site yet — maybe tomorrow — but if you're in Greece, you can see it in the printed paper, on page 22!
I'm told the translation got my points across well. I'll probably post my original English text tomorrow — which may or may not show up in the English edition of the paper.
Thanks to Ariel Glenn for getting the paper and sending a photo, and Yannis Pailiologos at Kathimerini for arranging this and doing the translation.
And the name of the book is at the bottom, which is most pleasing.
Today I learnt that the Greek word for "bitcoin" is "bitcoin", in Latin lettering.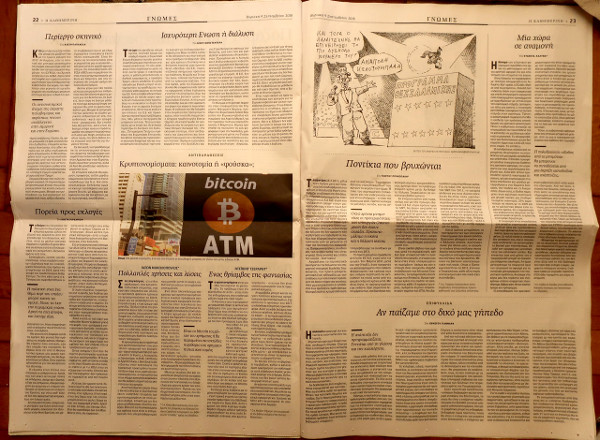 Update: My text is up in Greek and English.
Your subscriptions keep this site going. Sign up today!