Today's post is in the Crypto Insider section of this morning's City A.M., a free paper given out in the City of London. Their audience is business and finance people. Grab a paper copy if you're in range!
My section is the main spread of pp18-19. Here's the PDF. Complete with Alli Kirkham's marvelous artwork from the book, of Scared Business Guy versus BlockBot: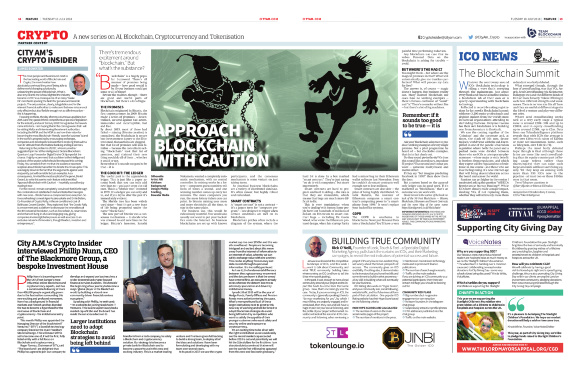 City A.M.'s Crypto Insider section has been going just a few weeks. It's generally very positive and future-looking — here are PDFs of past weeks. James Bowater, the section editor, came along to the Intelligence Squared panel last week, and thought I could provide a different view.
I'll post the text next week, once the next edition comes out. Update: here it is!
Your subscriptions keep this site going. Sign up today!