Not to worry, we'll use our Bitcoin Visa cards! Except all the Bitcoin Visas have stopped working. Because they were all going through one provider, WaveCrest, who were violating their agreement with Visa good and hard. "Exploring new options" is an ancient Bitcoin phrase that translates "sorry for your loss":
Wirex has been affected by the same card cancellations today and we are running a Live webinar event where we will be exploring our exciting new options for our new Plastic and virtual cards. https://t.co/pMKKGJJX5Q

— Wirex (@wirexapp) January 5, 2018
Izabella Kaminska reports on the CFTC's Bitcoin futures offering: "Friday's CFTC commitment of traders report for bitcoin futures paints a predictable picture. Dominated by small specs, esp. on long side. No real institutional participation, small number of big speculators making up bulk of short side. Interestingly it represents exact opposite pattern of trade in big financial contracts like S&P or dollar futures, where institutional dominates and other/non reportables are tiny comparative participants." Basically, real money isn't very interested.

I am shocked, shocked to hear that Jonathan Lucas, founder of Fantasy Market, has disappeared with the money from his FMT webcam pornography ICO. Kevin Dugan at the New York Post appears to be doing what most financial press don't bother to, and asking the basic and obvious pointed questions: "The venture flamed out in November after The Post questioned Lucas for about an hour on how his ICO would work and about statements he made in the white paper."
FT Alphaville discusses the XRP bubble. In the comments you'll see real-life usage — Ripple's totally-not-XRP-but-it-could-be replacement for SWIFT carries literally … $9,000 a day of transactions.
I endorse this morning's Guardian editorial, "A greater fool's gold" — get-rich-quick schemes never are, and trusting software instead of humans is stupid and ill-conceived — but my favourite part is the photo (Alex Hofford/EPA):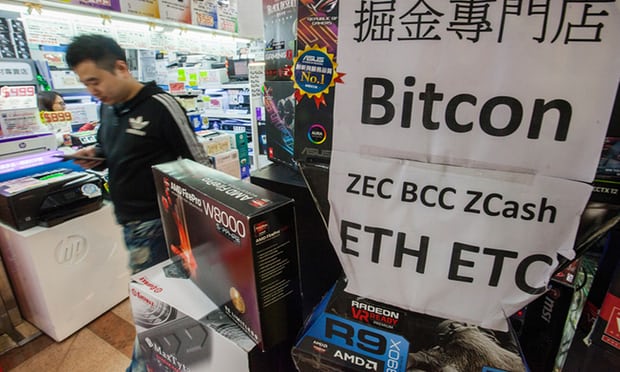 I was on Friday's BBC World Service Tech Tent with Rory Cellan-Jones — the segment on Ripple, XRP and the crypto bubble from 9:20 to 16:15. I talked very fast about the XRP pumpers on Twitter and how get-rich-quick schemes aren't.
A nice blog review from Romin Irani. "I came across this book via a discussion with my colleague at work, who recommended the author." KEEP UP THE WORD OF MOUTH, DEAR READERS!
More delighted readers share their book photos!
Only 23 pages into this book and loving every fabulously snarky (and piercingly accurate) sentence. "Attack of the 50 Foot Blockchain: Bitcoin, Blockchain, Ethereum & Smart Contracts" https://t.co/RLvlM9gQaZ by @davidgerard pic.twitter.com/889anoY4ut

— Charles Arthur (@charlesarthur) January 1, 2018
…also in today's mailbag copies of "Attack of the 50 foot #Blockchain," by @davidgerard, https://t.co/XwEOZc5FZK, and "#IoT Penetration Testing Cookbook," by @scriptingxss and @adi1391, https://t.co/raLpOUMIJo. pic.twitter.com/TgJsh7dJpq

— Alasdair Allan (@aallan) January 6, 2018
Reading @davidgerard's book on the train home pic.twitter.com/QnYdI79u1F

— Peter Hicks (@poggs) January 8, 2018
And now, the weather:
https://twitter.com/brian_armstrong/status/950113038111096832
The above tweet is from the CEO of Coinbase. It's worth noting here that one of Craig Wright's earliest Bitcoin ventures was to trade (allegedly existing) bitcoins from one of his companies to another, then claim a tax refund of AUD$3.1 million that would have been received from the Australian Tax Office in actual AUD. The ATO was unimpressed with this kind of creativity, and instead ordered a AUD$1.7 million penalty against him.
It's probably now more cost effective for someone to seed pages with Javascript that attempts to scrape Coinbase creds out of your browser RAM than to run a Javascript miner

— Matthew Garrett (@mjg59) January 4, 2018
Matthew Garrett is a Linux kernel developer. (He once fixed my wifi for a pint.) He's been dealing with Meltdown/Spectre and swearing copiously, like the entire rest of the IT world. Update your Firefox and Chrome now.
Incredibly, sales of my https://t.co/8VeAA9DCFT have increased. Will I owe a larger royalty cheque to Bannon & Trump? If so, the irony will know no limits. #FireAndFury

— Randall Hansen (@ProfRAHansen) January 6, 2018
BRB, just rereleasing my book as Fire and Fury: Bitcoin Mining Accidents and Getting Your Money Out Of Coinbase.
Your subscriptions keep this site going. Sign up today!