Update: Expanded version of this article over on Rocknerd.
---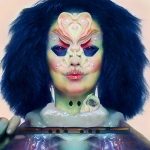 The weekend's big splash in musical blockchains was the news that indie pop star Björk is selling her forthcoming album, Utopia, for bitcoins. And there's something called Audiocoins. Let's see what doing the obvious basic tyre-kicking reveals …
The offering
The story broke in an article on industry news site MusicAlly on Thursday, based on an interview with Kevin Bacon from Blockpool.io, who tells how they are setting this up in partnership with Björk's label, One Little Indian. Bacon has previously been sceptical as to blockchains saving the music industry — mostly because no blockchain can possibly scale to the size of the music industry (as I spend chapter 12 of the book saying) — but is pushing this new project pretty hard.
The deal is: you can preorder the album, with actual money (credit card or PayPal) or various cryptocurrencies (Bitcoin, Litecoin, Dashcoin or Audiocoin … no Ether, in 2017?), and get 100 Audiocoins, Bacon's own cryptocurrency, for free. 1 ADC was worth 0.19 of a cent at the time of the story, though of course there's been a huge spike in the price over the weekend and as I write this it's worth 0.57 of a cent.
The MusicAlly piece is just the interview with Bacon, with no comment from One Little Indian or Björk's team, as MusicAlly were only after the digital angle. The album's official press release earlier that day mentions:
Björk will also be the first artist to use cryptocurrency in a meaningful way, making her album available to pre-order and buy with Bitcoin (BTC), Audiocoin (ADC), Litecoin (LTC) and Dashcoin (DASH) — all now valid currency in her online store.
Presumably all other musical cryptocurrency linkups and web record shops taking cryptos to date have been meaningless, then!
All other press coverage seems to be rewrites of the MusicAlly story, many — including from the music press! — via The Times' rewrite of the MusicAlly story. Fast Company gets points for also bothering to track down some background on Audiocoin. The rewrite in The Times notes that "the announcement was low-key with the singer not mentioning it in her own social media posting about Utopia, perhaps in acknowledgement of how widespread the digital currencies are becoming." Perhaps.
Buying the record
The album's preorder page on the One Little Indian shop site shows no way to accept cryptocurrency as yet — if you proceed as far as "Payment Information," the only options are "Credit Card (Worldpay)" or "PayPal." As I write this, there is no information concerning cryptocurrencies anywhere on the label's website. The last news concerning Björk is from 25 October, and the piece before that was in June.
The preorder page on Björk's own site does, once you get to the checkout, have a generic "CryptoCurrency accepted here" logo. There's a "What is cryptocurrency?" link below the logo that just takes you to the front page of Blockpool.io, which doesn't answer the question. If you click on the logo, four more logos pop up, for Bitcoin, Audiocoin, Litecoin and Dash. There are pop-up info boxes for Bitcoin and Audiocoin, the other two just say "litecoin description" and "dash description". I select "Audiocoin" and hit "continue", then "place order". It spins a while, then pops up an address, a QR code and "To complete your payment, please send 2505.69 ADC to the address below." About as straightforward as it could get.
The Björk store will proceed to email your password to you in plain text, so presumably stores passwords in plain text. This is not competent web development. I strongly advise you not to use this store or trust it with your personal information.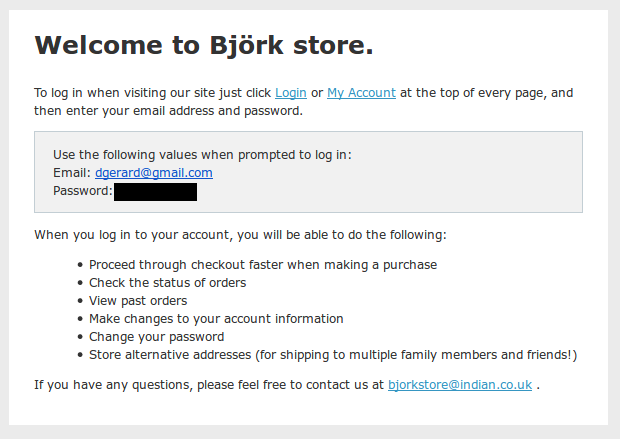 Something I was not happy to see in my inbox.
100 free Audiocoins
Audiocoin is an extremely minor altcoin, launched in 2015 by Bacon's company Aurovine, a web-based independent record shop founded in 2012.
It's not an ICO token, but a standalone cryptocurrency with its own blockchain. Per the white paper, it's based on Peercoin and uses a proof-of-work/proof-of-stake hybrid model — 20% of the coins are minable (the hash is scrypt), but for all practical purposes control stays with Aurovine.
Bacon sees the Björk project as a way to push the concept of cryptocurrency:
The more exciting piece of this is people coming in: a gateway to come in to crypto, rather than simply getting people to part with their cryptocurrency to get an album. This adoption story is important: getting crypto is a barrier, because generally you go through the Bitcoin gateway: you buy a Bitcoin then trade it for other currencies. But that's really difficult for younger people: if you're a teenager and you're trying to convince your parents to buy you a Bitcoin or part of a Bitcoin, that's a difficult sell!
Like pretty much all altcoins and ICO tokens, the motivation seems to be "if we make our own magical Internet money, we can get rich for free too!" Bacon is touting Audiocoin as something that will go up uP UP!! to the moon:
If they do the right thing and keep it until they're 25, it's probably the deposit on an apartment.
This seems a stretch, given the historical price graph of Audiocoin (below). And good luck cashing out: you can only trade ADC on three minor exchanges — Yobit (Russia), Cryptopia (New Zealand) and Bleutrade (Brazil) — and only Yobit offers a trading pair with conventional currency (US dollars or Russian rubles) rather than other cryptos. Yobit is also having problems with the authorities in Russia, Ukraine and Indonesia (translation). Cryptopia is in the Anglosphere, but only seems to deal in NZD Tethers (a substitute "dollar" token) rather than actual NZ dollars.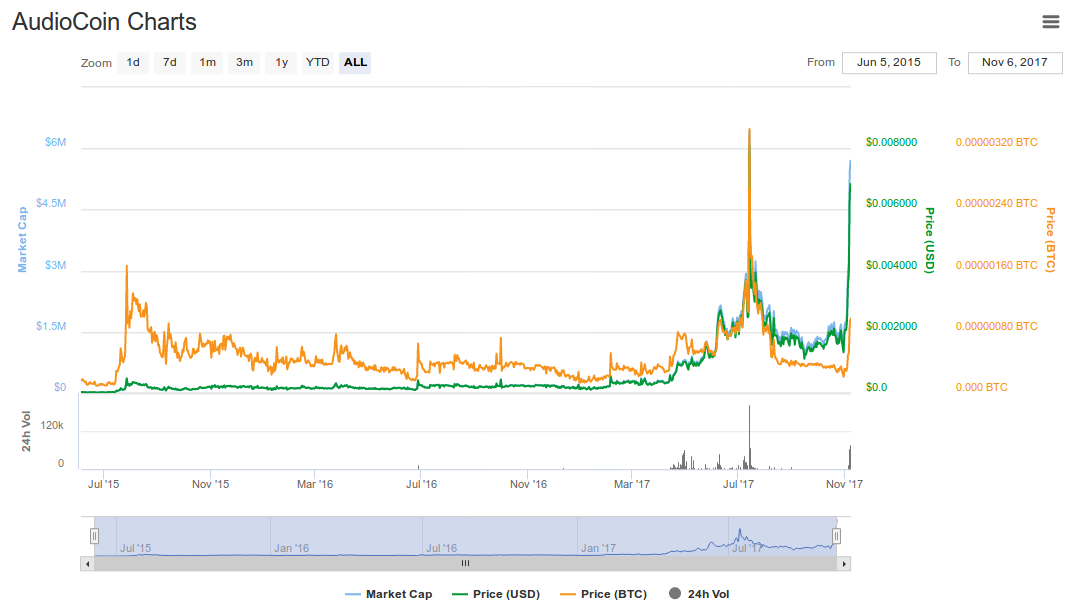 Audiocoin price, June 2015–November 2017.
In Audiocoin's Bitcointalk announcement in 2015, they talked up a pending tie-in with Radiohead, which went nowhere but may have explained the price spike early on in the above graph. It's not clear what caused the July 2017 spike — but minor coins like this are like penny stocks with negligible trading volume, so the "price" is trivially manipulable by the slightest movement. (As of 1945 UTC on Tuesday 7 November 2017, total trading volume in the previous 24 hours was $55,817.69.)
The company blog has a 2015 post about Aurovine being invited to participate in Imogen Heap's "Tiny Human" project. When I go to the Aurovine site, the Imogen Heap page works, but trying to click through to the "Tiny Human" page gives a "500 Internal Server Error". The last Internet Archive version, from November 2015, offered the song for free, or for 50 ADC donation, which you could get by signing up with Aurovine. The page shows 29 donations of ADC by this method.
Blockpool
The Björk project is being run by Bacon's other company, Blockpool, a business-to-business blockchain consultancy.
Blockpool ran an ICO in April 2017, where it sold tokens on its private BPL blockchain (a completely separate chain from Audiocoin). This looks very like a security offering, in which investors are led to expect a later appreciation in value from the effort of others — the offer explicitly states "Market forces will determine the value but with our existing agreements and experienced team in place we anticipate strong open market demand" — but they were selling directly to the crypto market on the early upslope of the present bubble, so it's possible the Financial Conduct Authority won't bother with them absent a disaster.
BPL uses Delegated Proof of Stake, as used by Danny Larimer in the BitShares and EOS codebases. BPL is open source under GPLv3.
Aurovine calls Blockpool "our friends at Blockpool"; the Aurovine team listing includes two out of three names in common with the Blockpool team listing, including Bacon. Blockpool's address is a Buy A London Registered Office! service, offering "A prime Covent Garden, London WC2 address as your registered office."
Blockpool's page on the Björk project talks up the cryptocurrency checkout plugin, and claims a "proprietary blockchain integration technology to build a smart rewards system."
Their present consumer offering is MyBlockpool, a web-based cryptocurrency wallet, which for this project will mainly be a place for buyers to dump their ADC and forget about it. Various hypothetical future offerings are posited. The "about" and "contact" links don't work as yet. The privacy policy and legal links redirect to an empty page. The support page is literally just the words "support works!"
One thing the MyBlockpool site does not make clear to its target market of ordinary consumers is the utterly irreversible nature of cryptocurrency transactions. A major design criterion of Bitcoin and its successors is that errors and thefts cannot be reversed, even in principle. This bites even the most experienced crypto users — Gavin Wood, the second lead developer of the Ethereum Project, lost an estimated $160 million from his own company Polkadot's recent ICO in a disastrous Ethereum wallet programming error just this afternoon.
Blockpool will have problems if the Björk ADC offering achieves any popularity and their users start thinking of ADC as money, as people call expecting them to act in the role of a bank — which is what their site looks like, a place where you have balances you can spend, cryptocurrencies in amongst regular currencies — and provide the sort of service an ordinary person expects when, say, their credit card is abused.
Blockpool's offering to businesses is based on the public BPL blockchain, with sidechains when you want a private blockchain, and smart contract functionality. Their offering does appear to involve blockchains proper, rather than just a transaction ledger with hashes. They take care to denigrate databases in passing — "Currently many organisations are using SQL databases for their customer data retention. This can be an insecure, outdated method." You could drive a truck through that "can be". For customer data, conventional databases would probably pass GDPR muster, unlike an immutable blockchain that nothing can ever be deleted from.
Summary
For everyday record buyers, the 100 ADC will be near-worthless and slightly annoying magic beans. Despite the pitch, there is no visible evidence that you will be able to trade ADC for actual money in the foreseeable future.
The MyBlockpool wallet is simple enough if you just want to use your ADC as single-function in-company tokens, like Disney dollars or car wash tokens. The public announcement without having filled in any of the legal or support details is not good. I anticipate trouble if this gains any traction with everyday consumers, to the extent the users think of it as being like money.
I can't see anything in this that others will benefit from emulating. This project looks good on Audiocoin's CV, but is an irrelevance on Björk's CV. Perhaps it will take off.
As an example offering from Blockpool, the cryptocurrency checkout plugin seems straightforward and reasonable. I assume they've tested it for various failure modes, and know what to look for when (not if) a customer says they made a payment that didn't go through.
The Björk shop might have been a good place to spend some spare cryptocurrency on the album, except that the developers appear not to understand how to store user data safely, and I would once again strongly recommend against putting any personal information into the site unless and until they announce and finish a rewrite for basic security.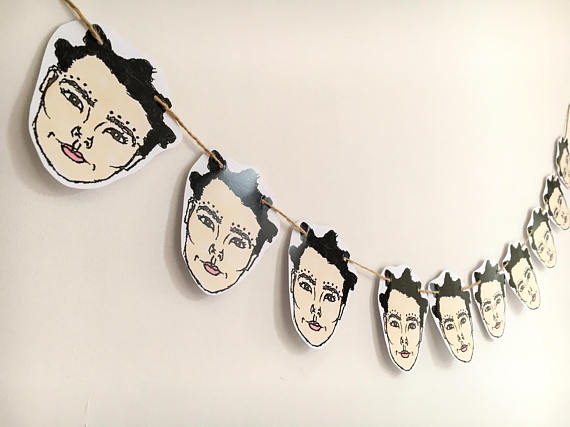 Above: the Björkchain.
Your subscriptions keep this site going. Sign up today!