Bitcoin news site CoinTelegraph made a splash today with a story about Russia starting its own cryptocurrency, the "cryptoruble":
While the announcement means that Russia will enter the cryptocurrency world …
As clickable headlines in the cryptocurrency press often do, it got picked up by the tech press, though it's yet to make it to the mainstream press. But what's the substance of it?
CoinTelegraph didn't link its "local news sources," but I tracked down what looks like the original, or close to it, from Argumenty i Fakty on Saturday: "Russia will issue its own crypto currency — Minister for Communications".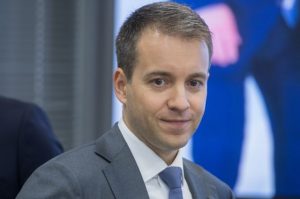 Nikolay Nikiforov, the Minister for Communications and Mass Media, says this was a decision by President Putin, though Nikiforov was advocating it last month. "If we do not, then in two months our neighbours in the Eurasian Economic Union will do it." ("если мы этого не сделаем, то через 2 месяца это сделают наши соседи по ЕврАзЭС.") The plan is a closed model with regulated issuance of tokens, rather than Bitcoin-style mining.
Nikiforov seems to consider mathematics to work along national lines: "Russia's cryptocurrency should use Russian cryptography, the minister said." ("В российской криптовалюте должна быть использована российская криптография, отметил министр.") He believes that:
We cannot trust foreign cryptography in such a sensitive topic as cryptocurrencies. We cannot use these things for one simple reason — we know that there are certain bookmark mechanisms in this cryptography. We have always guessed this, then it was published by Snowden, then it was confirmed by hundreds of other leaks.
This isn't the first official-level "cryptoruble" proposal. From local crypto news site Bits Media's coverage of local fintech conference Finopolis 2016 from October last year:
The Central Bank also continues discussing the possibilities of creating a state cryptocurrency, the so-called "digital ruble" or "bit-ruble" — the term appeared after the attempt of the Qiwi payment system to launch a cryptocurrency in the fall of 2015. The initiative met with sharp opposition from the authorities and initiated the creation of a bill banning cryptocurrencies in Russia. However, in the light of the new statements of the Central Bank and the Ministry of Finance, this project can be considered actually buried.
What Nikiforov's 2017 announcement seems to be describing is a state-issued Tether-style token system (cryptographic "eurorubles") with proper central bank backing — blockchain-based, but firmly controlled and strictly ruble-equivalent. It's entirely unclear what this gets you over the centralised digital money we have now, maintained by your bank and accessed electronically, which works perfectly well in Russia (though cash is still more common).
This appears to be a splashy buzzword-friendly announcement of the sort motivated by the internal needs of the bureaucracy to look good — if the President wants something, he gets it. If there's anything to this, the resulting currency may rapidly turn into just another electronic payment system, because the design appears centralised enough that a blockchain gets you nothing except being able to say that you're using a blockchain. The main impetus does appear to be a wish not to be outdone by their fellow EAEU members.
Just a week ago, on 11 October, President Putin called for a strong regulatory environment for cryptocurrencies, ordering the Ministry of Finance to control the release and circulation of cryptocurrency in Russia. It's not clear how this new announcement fits with that, unless the government simply wants something it can call a cryptocurrency without all that annoying lack of central control.

Your subscriptions keep this site going. Sign up today!