My new phone has nothing to do with blockchains — but I'll be deducting the expense, so it's part of the writer business!
My old Galaxy A5 2016 was five years old, and getting a bit creaky. When I realised that ridiculously overspecified 108 megapixel cameras existed, that went on the requirements list. And a 3.5mm headphone jack, because Bluetooth is arse.
It doesn't have 5G — but Vodafone has bad 5G coverage in my area, and 4G gets me 42.5 Mbps anyway, so that'll be fine.
I dropped £300 on this phone. It has its clunky bits, but I'm delighted so far.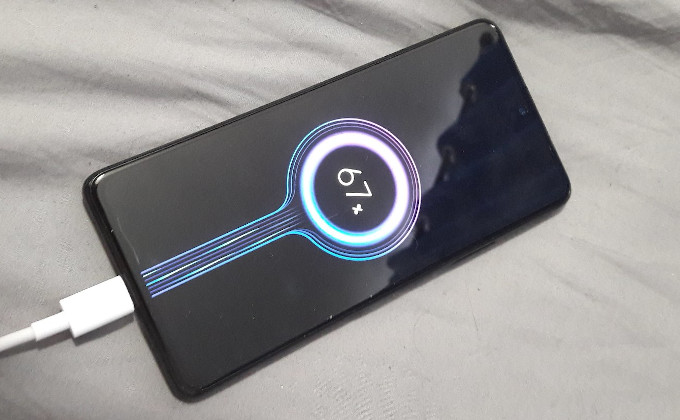 Usability
The Note 10 Pro has a 6.7" screen. So it's functionally a long, skinny tablet — but it fits in my hand.  Our actual tablet (a Galaxy Tab A 2019) weighs 600g, but this weighs 200g, and suddenly everything is usable. I see the point of the app versions of Facebook and Instagram!
The screen is a bright AMOLED. Switch on the 120Hz refresh rate — it uses more battery, but it's worth it.
I can see why Xiaomi didn't include physical back/home/overview buttons — the screen is just too elegant without them — but it hampers usability. I've gotten way too used to them.
(Update: Settings → Additional settings → Accessibility menu — enables on-screen buttons when you swipe up in any app, can be disabled per app.)
The screen attracts way more cat hair than any other phone I've ever owned. I realise this is also our cats, but …
It has 8 CPUs and I got the 8GB RAM model. The OS is Android 11 with MIUI 12, Xiaomi's own interface. A lot of users find MIUI utterly infuriating, but it hasn't annoyed me unduly as yet. It takes two SIMs and a micro-SD card.
There's no wireless charging, but it does do USB-C fast-charging — 3 amps at 17 volts, same as my laptop.
I'm surprised how good the sound is. There's a speaker at each end for stereo. It also has any bass at all. I can play podcasts in the kitchen like they're talk radio.
The MIUI file explorer has an FTP server built in! I advise not leaving it on all the time, but I've found it super-convenient for getting photos off the phone and podcasts on. edit: and it can access SMB shares!
Privacy
Ahahaha, no. Xiaomi's hunger for personal data makes Google and Facebook look like shrinking violets. Even the file explorer has ads.
The phone is nice enough that this didn't make me send it back.
One tool I found fabulously useful was Hidden Settings for MIUI. This lets you mess up your phone so badly you need to do a factory reset. Or you could just disable ROM-based apps that are annoying you. e.g., I disabled the YouTube app because YouTube in Firefox with the uBlock Origin ad blocker is strictly superior. [Google Play; FOSSbytes]
Sadly there's no Lineage, Calyx or Graphite OS for this model as yet.
Cameras
There's four cameras, but I've just been using the 108 megapixel sensor. This is the ISOCELL sensor, developed by Samsung and Xiaomi. [DPReview]
You're supposed to use it for a 12 megapixel image, doing 9:1 pixel-binning for pixel-sharp images. So I've just been using full resolution — 12,000×9,000 — which works great in the daytime. Left is the full shot of the cherry tree — here's the full 28,431,136-byte camera JPEG — and right is a 100% crop of our snail buddy: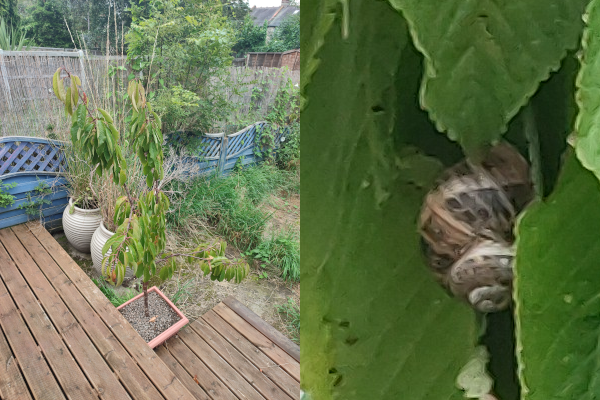 There's no image stabilisation. (You need to pay flagship prices for that sort of thing.) Under anything other than bright sunlight, full resolution will look like it was taken on a phone.
Open Camera doesn't yet support 108MP. There's a bug request and a possible patch. [Sourceforge]
Here's a similar shot at twilight in night mode — left is 108MP, right is night mode:
Night mode is not as good as comparably-priced phones. I tried this shot at midnight with no moon, and it came out almost black. Left is night mode on the Redmi, right is the loved one's Pixel 4a in night mode. The Google Camera app is very good at night mode, so Xiaomi needs to lift its software game here: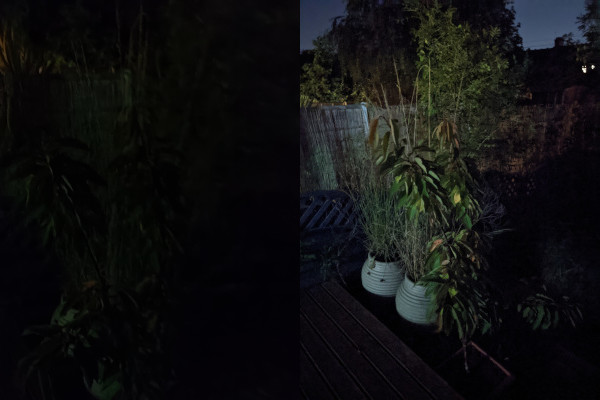 Get a case
Amazon reviews note that the back of the phone is not made of metal or plastic, but of Gorilla Glass. One guy dropped his phone and it cost £53 to repair it. You're going to want a case. The phone comes with a clear silicone bumper — use it. And definitely read all the Amazon reviews. [Amazon UK]
Getting the phone
You can get the 6GB/128GB model for £250-ish in the UK, [Amazon UK] or about $350 in the US from Amazon. [Amazon US] The 8GB/128GB model appears to be readily available in the EU — but the best UK option I could find was Xiaomi directly, where I got mine for £300. [Xiaomi UK]
Xiaomi included a free Mi Smartband 5 biometric fitness sensor — the previous model, that they were evidently clearing out — which I didn't care about, but the loved one is delighted with. It also doubles as the world's cheapest-looking wristwatch.
Summary
The Redmi Note 10 Pro has flagship features at half the price. Now it just needs software that takes advantage of them. But I've found it worth £300 so far.
Your subscriptions keep this site going. Sign up today!