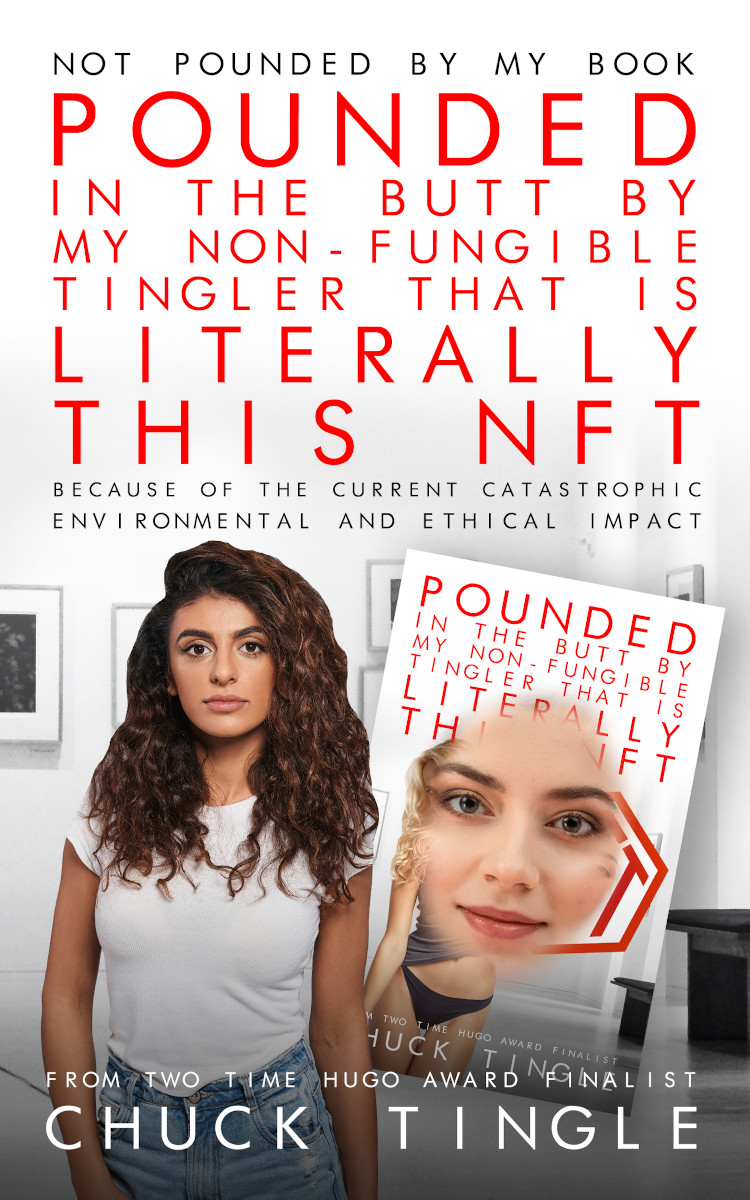 Dr. Chuck Tingle has spoken — and in a good and proper world, that should just about wrap it up for NFTs.
Chuck Tingle writes surrealist gay erotica, with occasional dinosaurs and anthropomorphised objects and concepts. Most of his "books" are 4,000-word short stories — "tinglers" — usually with a bonus story. He writes quickly, often about current events, and puts out a new short book every two or three weeks.
Tingle is famous for such works as Pounded In The Butt By My Own Butt, the Hugo-nominated Space Raptor Butt Invasion and the full-length Trans Wizard Harriet Porber And The Bad Boy Parasaurolophus: An Adult Romance Novel.
Not Pounded follows from Tingle's previous plan to do a book as an NFT. Tingle announced on 18 March that he would be doing a tingler as a single copy with an NFT. [Twitter, archive; OpenSea, archive] Tingle's fans went "oh no," and Tingle found it cost $200 in "gas" (transaction fees) to put a token on Ethereum. So he read up on NFTs, was horrified by the environmental cost of proof-of-work blockchains, and released this book later on 18 March, the same day. (Tingle works fast.)
Tingle is not a fan of NFTs. "Way of NFT is a devilman plot to make the world hot as heck (typical devils)." [Twitter]
Not Pounded is one of Tingle's non-erotic tinglers. Rosey breaks up with her velociraptor girlfriend Memoon when Memoon reveals that she is a mass-produced clone. Rosey joins her friend Lisa at an art gallery. The gallery is bare of visible art, and hotter and hotter as you go in — because of a wall of computers calculating a blockchain. Lisa and Rosie fall into a computer screen to look at the NFTs.
I just stare at her blankly. "So wait … are NFT's the art, or the plaques?"

My friend looks a little worried as I say this. She leans in close, dropping her voice to a hushed whisper. "The plaques, but don't say it too loud, alright? These people are very invested in the whole idea."
Rosey eventually meets the Non-Fungible Tingler — a book with herself on the cover. The gallery starts overheating and glitching …
The bonus story is the heartwarming Not Pounded By My Soul-Crushing Job Because I Quit. The last third of the book is just a list of Tingle's previous works.
Not Pounded is a heartfelt rant from a self-published writer who's looked at the NFT phenomenon and is appalled by what he sees. This cost me £2.14 and it was worth every penny.
If you know Chuck Tingle, you'll enjoy this one. If this is your first tingler, it'll give you some idea of what Tingle does — though for fullest understanding, you might want to start with Mark Oshiro's dramatic reading of Space Raptor Butt Invasion at Penguicon 2016. (CONTENT WARNING: explicit sex, salty language.) [YouTube]
instead of trying to support art by buying digital plaques with your name on it that has no meaning or actual connection to the art JUST SUPPORT ARTISTS BY BUYING THEIR ART. NFTs are good example of trying to fix problem that already has had very easy solution for 1000s of years

— Chuck Tingle (@ChuckTingle) March 19, 2021
Your subscriptions keep this site going. Sign up today!