WIKICITIES, Helmand, Monday (NNN) — The kidnapping of Pulitzer Prize-winning New York Times journalist David Rohde in Afghanistan was suppressed not only by almost all press syndicates but also by Wikipedia, on the direct command-and-control orders of Jimbo Wales, who is personally responsible for every word in the popular web-based encyclopedia.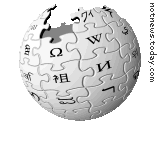 Conservative commentators were appalled at the suppression. "Would they have protected HITLER like this?" thundered Michelle Malkin. Wales pointed out that the encyclopedia's biography of Hitler had already been appropriately edited and cited per the Biographies of Living Persons policy:
Adolf Hitler is the Chancellor of Germany[citation needed]. He is noted[citation needed] for his work on the moral fibre of German society[citation needed] and stimulating the economy[citation needed], notably through the Autobahn construction programme[citation needed]. Some[who?] have criticized aspects of his policies[citation needed].